Rheum rhaponticum
Rhubarb or false rhubarb (Rheum rhaponticum L.) is a perennial rhizomatous herbaceous species belonging to the Polygonaceae family.
Systematics –
From the systematic point of view it belongs to the Domain Eukaryota, Kingdom Plantae, Magnoliophyta Division, Magnoliopsida Class, Subclass Caryophyllidae, Superorder Polygonanae, Order Polygonales, Family Polygonaceae, Subfamily Polygonoideae, Tribe Rheeae and therefore to the Genus Rheum and to the Specie R. rhaponticum.
Etymology –
The term Rheum comes from rheu root; for antonomasia rheu barbarum root of the barbarians, from which rhubarb. The specific epithet rhaponticum derives from the Latin rapòntico, composition of rha, translitt. of the gr. ῥᾶ «rhubarb», and lat. pontĭcus «pontico, del Pontus (ie the Black Sea).
Geographic Distribution and Habitat –
Rhubarb rhubarb is a lively herbaceous plant with origins in Central Asia, between the Urals and the Caucasus.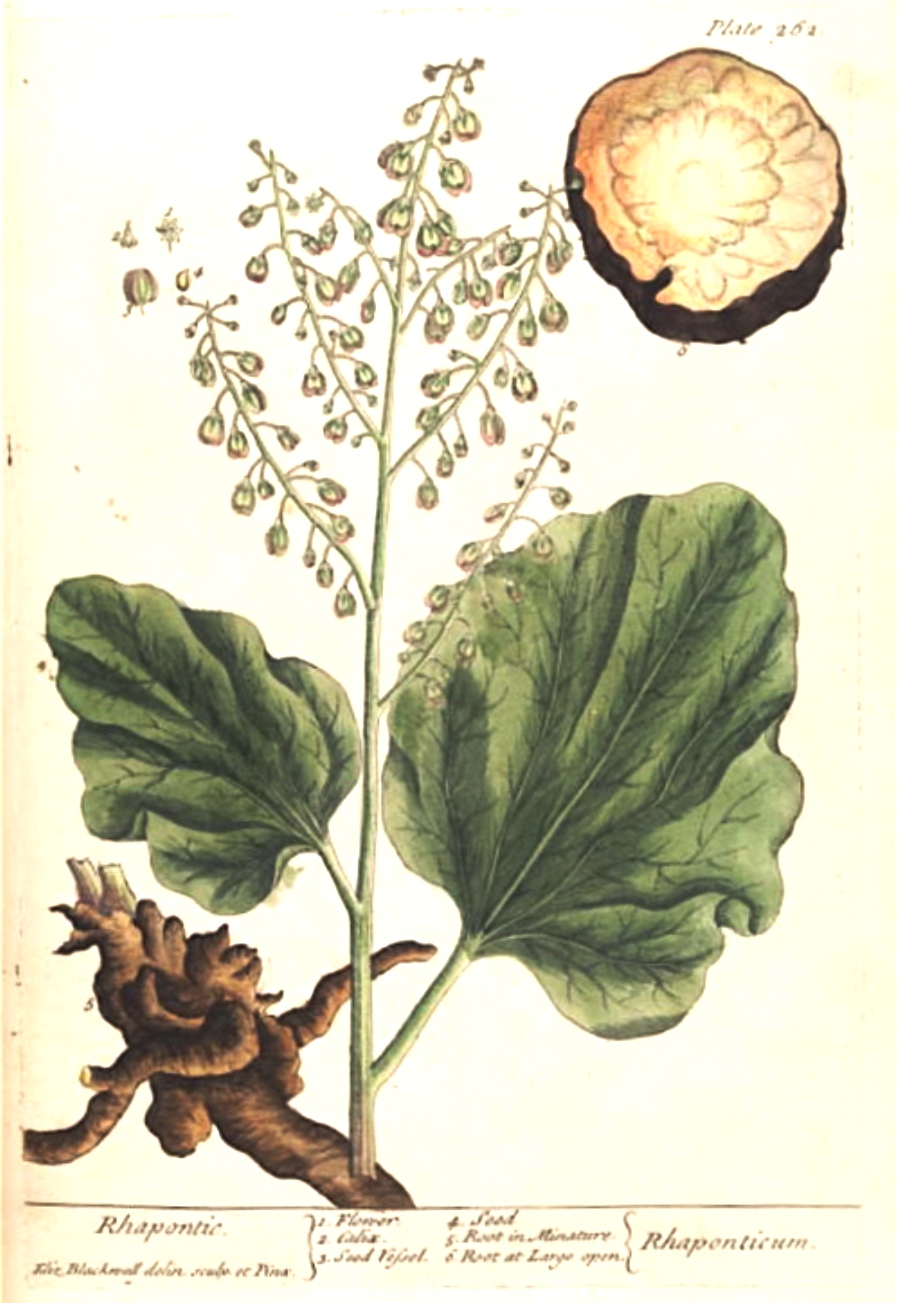 Description –
Rheum rhaponticum is characterized by its robust yellow rhizome with deep roots, from which develops a rosette of very large oval leaves, with a crenated margin. The leaves have a long, thick, cylindrical, fluted, reddish petiole. The flowering stem that can reach 2 meters has small whitish hermaphroditic flowers gathered in panicle; pollination is anemophilous; the fruit is a nocula, which is used as a seed.
Cultivation –
For the cultivation of Rapuni Rhubarb, green petiole and red petiole varieties are distinguished. It propagates by seed (in spring) or by division of rhizomes (in autumn-winter). It is a plant that has low thermal demands and is well suited to cold and humid climates. It resists winter frosts thanks to the rhizome that rejects in the spring. On the contrary, it is not very suitable for hot and dry climates of the South, where it blooms in advance and stops growth. The ideal grounds for its cultivation are those with a medium texture, deep and fresh, with pH between 5 and 7, not subject to water stagnation. For the cultivation technique, the following sheet can be consulted.
Uses and Traditions –
The root of this plant has lower purifying properties than that of true rhubarb.
The Rheum rhaponticum was probably introduced into the gardens of British medicinal herbs in 1573 directly from Asia. Johnson's dictionary considers Rheum rhaponticum and Rheum undulatum as different plants.
Rhubarb rhubarb, also known as false rhubarb also as European rhubarb, is often found in family gardens or even as an ornamental plant; in France and England it is cultivated as an intensive crop. This plant is used for the fleshy and succulent foliate petioles, which have a pleasantly acidulous taste for preparing jams; the leaf flaps are unusable due to the high content of oxalic acid. The root with a bitter taste is used in liquor and herbal medicine; this dried and reduced to powder, is used for medicinal purposes (tonic and purgative). Rhubarb rhubarb is lower than that of Chinese rhubarb (Rheum palmatum L.) which is imported for herbal use.
Preparation Mode –
The rapontico rhubarb is used to prepare jams using the most tender parts of the leaf petioles. The root of this plant is dried and ground into powder for later use for the preparation of liqueurs or medicines.
Guido Bissanti
Sources
– Acta Plantarum – Flora of the Italian Regions.
– Wikipedia, the free encyclopedia.
– Treben M., 2000. Health from the Pharmacy of the Lord, Advice and experience with medicinal herbs, Ennsthaler Publisher
– Pignatti S., 1982. Flora of Italy, Edagricole, Bologna.
– Conti F., Abbate G., Alessandrini A., Blasi C. (edited by), 2005. An annotated checklist of the Italian vascular flora, Palombi Editore.
Warning: Pharmaceutical applications and alimurgical uses are indicated for informational purposes only and do not in any way represent a medical prescription; there is therefore no liability for their use for curative, aesthetic or food purposes.