Acer saccharinum
Maple saccharine or silver maple (Acer saccharinum L.) is an arboreal species belonging to the family Aceraceae.
Systematics –
From a systematic point of view it belongs to the Eukaryota Domain, Kingdom Plantae, Magnoliophyta Division, Magnoliopsida Class, Sapindales Order, Aceraceae Family and therefore to the Acer Genus and to the A. saccharinum Species.
Etymology –
The term Acer derives from the Latin name dell'Acero, cited in Pliny and Ovid. This name should derive from pointed, pungent acer acris, both for the pointed shape of the leaves and for the use of maple to make lances. The specific epithet saccharinum derives from the Latin because of the sweet and sugary sap from which a delicious syrup is obtained.
Geographic Distribution and Habitat –
Silvered maple is an arboreal species native to the north-eastern and central areas of North America (between the United States and Canada). It was introduced in Europe in 1725 where it subsequently spread quickly for use as an ornamental species.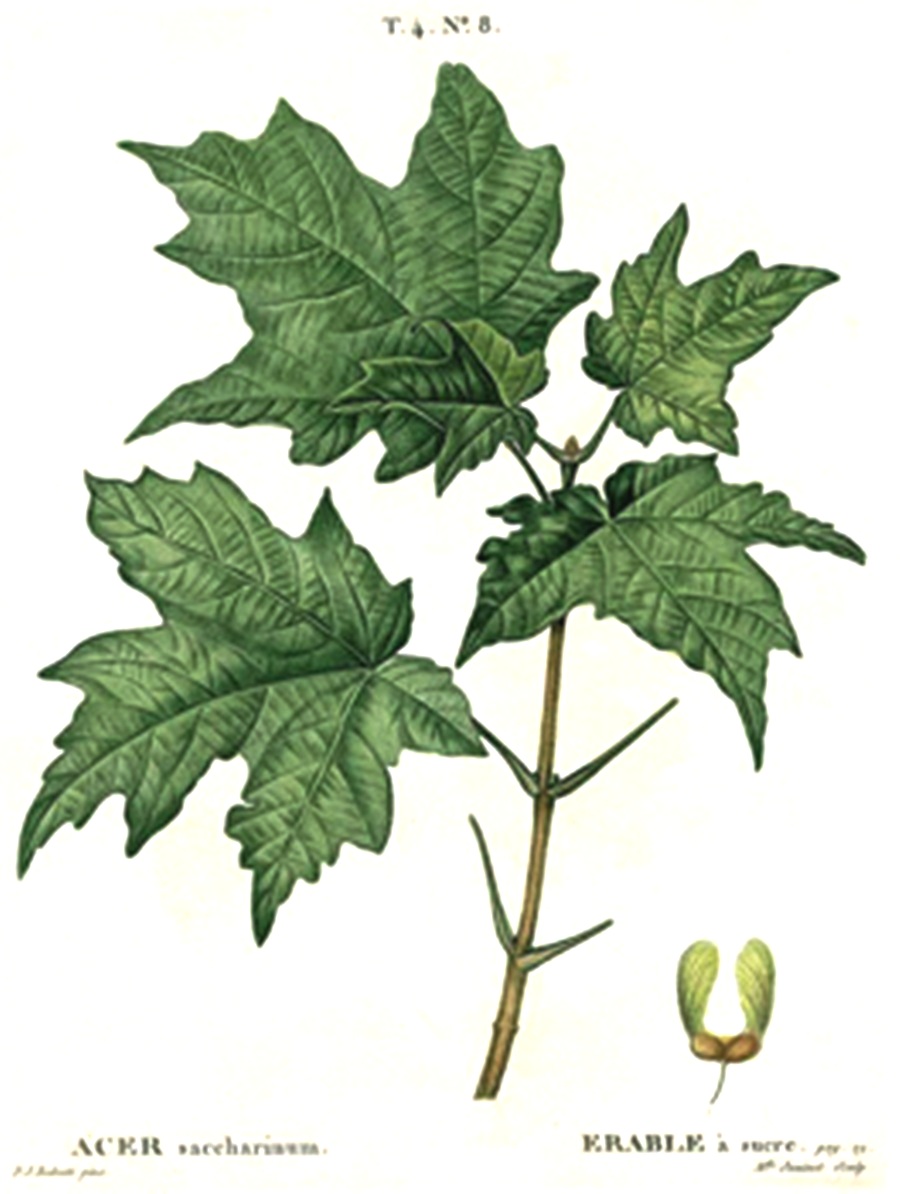 Description –
The Acer saccharinum is a tree that can reach 30 meters in height, with a short and gnarled trunk from which branches, forming a large crown, are disordered. The leaves are up to 16 cm long with 5 pointed lobes deeply incurved or lobed, with silver lower page and in autumn they take on a red color. The shape of the leaf and the silvery color of the lower page do not pose doubts. It can be confused with the Acer saccharum because the two species have a similar name. The flowers are both unisexual and hermaphrodite gathered in coryneal inflorescences, not very evident because they are devoid of petals; the antesis is in the period of February-March before leafing. The fruit is a double disamara with slightly spread wings.
Cultivation –
Silver-plated maple is a species that prefers temperate climates even if it also adapts to those characterized by harsh winters as it bears temperatures of several degrees below zero. Compared to other Maples, it has greater luminosity requirements, in fact it prefers completely sunny places, but sheltered from the wind because the saccharine maple wood is fragile, so it is particularly prone to breakage. From the pedological point of view, it has a high adaptability, being able to grow even on compact, moist soils subject to water stagnation; it can also grow on acid and salty soils but does not like sandy ones that are too permeable. The most widespread cultivations include two varieties "Laciniatum", pendula and with lobed leaves and deeply divided and the "Pyramidale" (synonym Fastigiatum) which has a fastigiato bearing.
Uses and Traditions –
The Acer saccharinum is used as an ornamental plant also for its rapid growth. It is in fact appreciated for its elegant and decorative posture and for the beauty of its silver leaves on the lower page. In addition to its rapid growth is distinguished by a compact and dense head from the base; for this reason it is an excellent tree species to create barriers and natural shields and to create shady areas. As for longevity, it has an average life of 80 to 100 years.
Preparation Mode –
From the sap of this plant, which is obtained by carving the bark, we obtain maple syrup (maple syrup), used on pancakes.
Guido Bissanti
Sources
– Wikipedia, the free encyclopedia.
– Treben M., 2000. Health from the Pharmacy of the Lord, Advice and experience with medicinal herbs, Ennsthaler Publisher
– Pignatti S., 1982. Flora of Italy, Edagricole, Bologna.
– Conti F., Abbate G., Alessandrini A., Blasi C. (edited by), 2005. An annotated checklist of the Italian vascular flora, Palombi Editore.
Warning: Pharmaceutical applications and alimurgical uses are indicated for informational purposes only and do not in any way represent a medical prescription; there is therefore no liability for their use for curative, aesthetic or food purposes.