Albizia julibrissin
The Acacia of Constantinople (Albizia julibrissin Durazz., 1772) is a plant of the Fabaceae family also known as the Persian silk tree, Gaggìa arborea or simply Albizia.
Systematics –
From the systematic point of view it belongs to the Eukaryota Domain, Kingdom Plantae, Magnoliophyta Division, Magnoliopsida Class, Fabales Order, Fabaceae Family, Ingeae Tribe and then to the Genus Albizia and to the A. julibrissin Species.
Etymology –
The generic term Albizia recalls the Florentine nobleman Filippo degli Albizzi who in 1749 introduced the Albizia julibrissin to Florence, returning from a trip to Constantinople. The specific epithet julibrissin comes from the Persian word gul-i-abrisham, silk flower (in reference to the stamens consisting of elongated and silky strands) or from the Arabic djulâb, which means rose water.
Geographic Distribution and Habitat –
Albizia julibrissin is native to the eastern and south-western regions of Asia between eastern Iran, Azerbaijan, China and Korea. Today this plant has been successfully placed also overseas, in California, Texas and Oklahoma; it is a plant that adapts even in not very rainy and warm environments, which allows it to be inserted in places with a hot and torrid climate.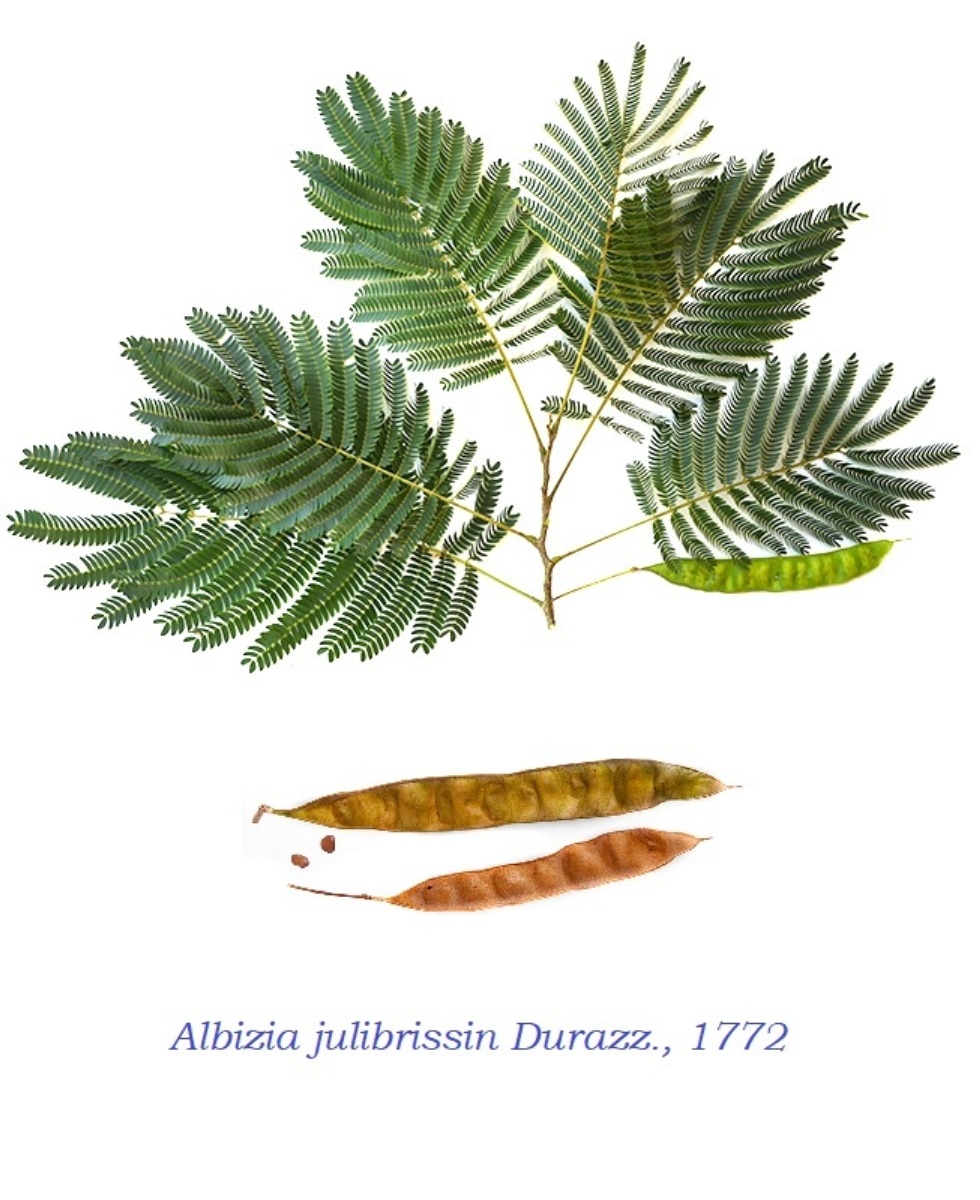 Description –
The Acacia of Constantinople is a tree that can also assume bushy bearing and can reach 10 meters in height. It has an umbrella-like crown because of the spread of ramifications and a straight, slender trunk with smooth, gray-brownish, wrinkled and subsequently opaque, with an advanced growth. The leaves are deciduous, alternate, petiolate, composed and skimmed, up to 20 cm long, with segments of the last linear order, falcate, 4 x 12 mm, green and glabrous. The flowers are spherical, perfumed flower heads, 4 cm in diameter, gathered in broad, coeliacous panicles; the calyx is campanulate with 5 teeth and with a corolla of 5 petals funnel-welded, with very long stamens in white-yellow filaments at the base, which gradually turn red towards the apex. The fruits are legumes of 8 to 15 cm long, brown when ripe, crushed between the seeds; these persist on the branches throughout the winter period.
Cultivation –
Albizia julibrissin is a plant that is appreciated in Europe as an ornamental essence, used both in parks and in road trees. It is a plant that fits very well in regions with a temperate climate such as the Mediterranean, although it also resists well in the cold. In general they are plants that live very well in full sun and even in partial shade. With plantation between autumn and the end of winter. They are not plants that require special care and are also very resistant to both salt and pollution. For details of the cultivation technique refer to the following sheet.
Uses and Traditions –
The Acacia of Constantinople is used as an ornamental shrub in parks and gardens, known for the silky appearance of its holes and for the umbrella of horizontal leaves which it develops, as well as for its fast growth; in fact the foliage of the fully grown trees provides a pleasant shaded area, also due to the aesthetic appearance provided by its flowers ranging from white to shaded red or, in some varieties, from cream to straw yellow.
Preparation Mode –
The Albizia julibrissin has no particular use for food or for pharmacological uses or, at least, the bibliography is lacking.
Guido Bissanti
Sources
– Wikipedia, the free encyclopedia.
– Treben M., 2000. Health from the Pharmacy of the Lord, Advice and experience with medicinal herbs, Ennsthaler Publisher
– Pignatti S., 1982. Flora of Italy, Edagricole, Bologna.
– Conti F., Abbate G., Alessandrini A., Blasi C. (edited by), 2005. An annotated checklist of the Italian vascular flora, Palombi Editore.
Warning: Pharmaceutical applications and alimurgical uses are indicated for informational purposes only and do not in any way represent a medical prescription; there is therefore no liability for their use for curative, aesthetic or food purposes.