How to build a trap against insects and fruit flies
How to build a trap against insects and fruit flies
One of the principles of application of biological control is to eliminate flies (fruit, olive and others) using natural methods and without the use of pesticides.
The use of the traps is one of these methods and in detail we explain how to implement them from you.
To build the traps will be necessary: Plastice bottles, Scissors, Insulating tape, Iron fil, A tablespoon of jam, lemonade or orange juice.
Let's see how to operate now. To start you have to cut the plastic bottle about one centimeter before the circumference starts to narrow towards the opening with a clean and homogeneous cut. In this way you have obtained two parts: the highest cylindrical base and the lower apex, which you will overturn in the other part of a funnel-shaped bottle. Fix the two parts well with insulating tape.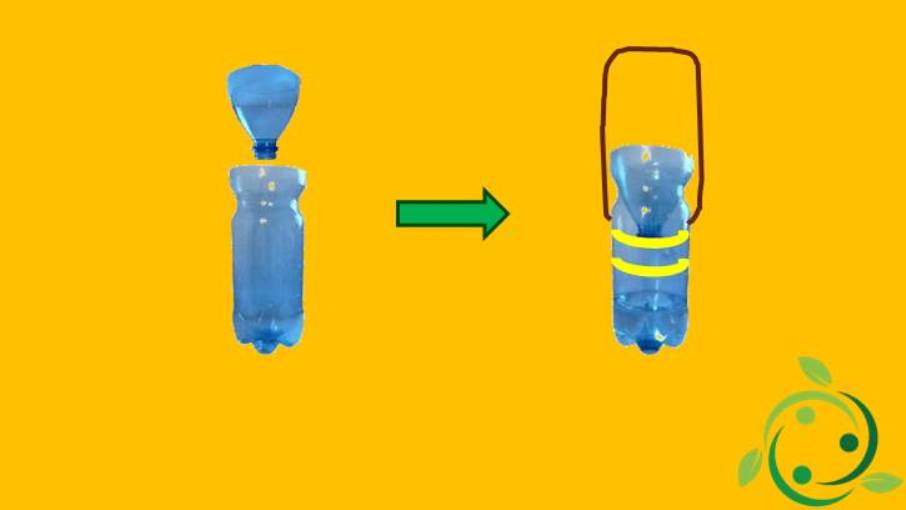 At this point place a spoonful of jam on the bottom of the bottle or, failing that, the lemonade or orange juice that will act as an attraction for these insects.
To hang the bottle from the branches, make two opposite holes in the upper part of the bottle and with a piece of wire you will form a handle which will be used to hang it from the branches.
When the bottles are hung the flies will be attracted by the smell of the attractant used; they will enter the bottle but they will not be able to get out of the bottle neck that is very tight.
If you want to be more selective about the fly you want to capture, you can change the type of bait. For the olive fly you can use a protein bait (this can be composed of fish residues which going into decomposition lures them) or water and ammonia; for fruit fly fruit juices or jams are good. For the Carpocapsa, Tignola, Sesia, Moths and various other types of lepidoptera, prepare a small cup of wine with 6/7 tablespoons of sugar and a handful of cloves and cinnamon.
If you want to increase the effectiveness of these cheap and efficient traps, buy bright yellow tape, turn it around the bottles; in this way the trap, through the tropic chrome effect, will increase the attraction of the insects which then, to the smell of the food, will enter the bottle where they will remain trapped. Seeing is believing.
Guido Bissanti