Drimys winteri
Winter's bark or canelo (Drimys winteri J.R.Forst. & G.Forst.) Is an evergreen shrub species belonging to the Winteraceae family.
Systematics –
From a systematic point of view it belongs to:
Eukaryota Domain,
Kingdom Plantae,
Magnoliophyta Division,
Magnoliopsida class,
Order Magnoliales,
Winteraceae family,
Genus Drimys,
Species D. winteri.
The terms are synonymous:
– Murray aromatic Drimys. not (R.Br.) Muell .;
– Drimys chilensis DC .;
– Drimys granatensis Mutis ex Lf;
– Drimys punctata Lam.
– Murray aromatic wintera. not (R.Br.) Muell ..
Etymology –
The term Drimys comes from the Greek δριμύς drimýs acrid, spicy, pungent, sour, bitter: for the bitter bark.
The specific epithet winteri, according to some, was attributed in honor of Admiral Sir William Winter (~ 1521-1589), one of the financiers of the Circumnavigation of the Globe (1577-1580) commanded by Francis Drake who gave him a sample of the bark of this tree; according to other authors it was dedicated to Captain John Winter, commander of the ship Elizabeth participant in the Circumnavigation of F. Drake, who obtained a supply of the bark of this tree, bringing it to England in 1579.
Geographic Distribution and Habitat –
Drimys winteri is a native plant of the Valdivian temperate forests of Chile and Argentina, it is very common in coastal evergreen forests, and is particularly widespread also in Tierra del Fuego.
Its natural habitat is that of a dominant tree in the humid lowland sites of Tierra del Fuego, below 1,200 m, between latitude 32 ° south and Cape Horn, located at latitude 56 °, where it tolerates temperatures down to – 20 ° C. We find it in marshy sites along streams and streams in rich soils.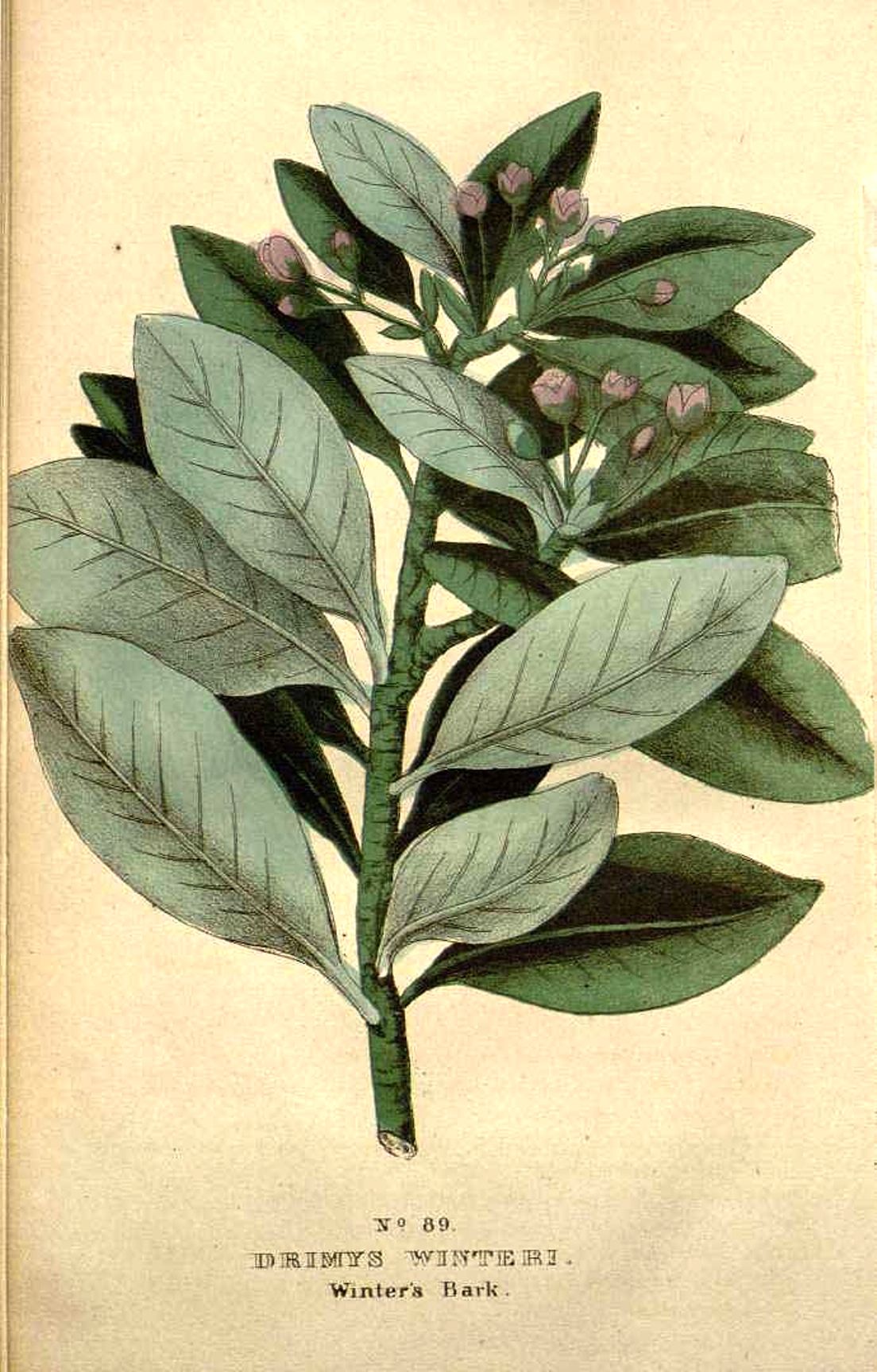 Description –
Drimys winteri is an evergreen shrub that grows up to a maximum height of 12 m and with a circumference of about 3 m, almost never in single form.
The wood is very porous and not very resistant when young, it is very light when it dries, while the bark, smooth and about 2.5 cm thick, is greenish on the outside and red inside, as well as extremely spicy (a characteristic also common to fruit).
The leaves are lanceolate, of a glossy green in the upper part, paler below, and can measure up to 20 cm.
The flowers are white with a yellow center, similar to daisies, and include a large number of petals and stamens. It is a species is hermaphrodite (it has both male and female organs).
The fruit consists of a small bluish berry.
Cultivation –
Winter's bark is an evergreen plant and in bloom from January to June. It prefers moist soil and in a shady area. The plant can tolerate strong winds but not of a maritime nature.
From a pedological point of view it requires a soil free of limestone while tolerating chalky soils.
This plant usually begins to bloom when it reaches a height of about 30 cm.
It is a polymorphic species, with the flowers having a delicate jasmine scent, while the bark has a powerful aromatic odor.
Propagation can take place by seed which must be sown as soon as it is ripe in autumn in the greenhouse. Plants are best transplanted in late spring or early summer, after the last expected frosts.
Propagation can also take place by 10-15 cm semi-mature wood cuttings in the period of July – August in the greenhouse. The percentage of engraftment is around 60%. You can also prepare cuttings of mature wood from the current year with a base of older wood, in the period of November in a cold greenhouse.
Customs and Traditions –
This plant, in addition to its botanical interest, is a fascinating ornamental plant due to its ancient origins.
Drymis winteri, according to the accurate description of Lucas Bridges, who lived in Tierra del Fuego for forty years, had many common names: "Winter's bark", "canelo" (Spanish name, where it also means cinnamon) and " ushcuta "(yamana name).
When Sir Francis Drake sailed the world in the years 1577-1580, of the four ships accompanying his, the Golden Hind, the only one that managed to successfully pass Cape Horn, was the Elizabeth, whose captain was John Winter. The two ships were separated during a storm. There were probably sick men aboard John Winter's ship, so the captain went in a boat to land to look for some medicinal herbs. He returned with a supply of Drimys bark; so, for centuries, before vitamin C was discovered, the bark of this plant was considered an excellent remedy for scurvy. It was so effective, in fact, that James Cook and his crew used D. winteri tea during their trip to the South Pacific to avoid getting sick. The naturalist who accompanied them in the exploration, Johann Reinhold Forster, was the first to describe and officially name D. winteri.
For the indigenous Indian tribes of South America this plant was a symbol of peace a bit like an olive branch was used in Greece.
The aromatic, pungent, powdered bark is used as a substitute for pepper in Brazil, Chile and Argentina. It is rich in vitamin C.
The bark is a pungent bitter tonic herb that relieves indigestion. It is antiscorbutic, aromatic, febrifuge, cutaneous, stimulant and gastric.
The bark, in addition to vitamin C, contains resinous matter and 0.64% of aromatic essential oil.
Wood is not durable, heavy (sinks in water), and is used for house interiors, boxes, musical instruments, furniture. etc.; it also burns badly and gives off a pungent smelling smoke.
The Yaghan natives used wood from younger trees, particularly straight and slender, for their spears and harpoons.
This plant is usually grown as an ornamental plant in areas where the climate is sufficiently humid and cold. It is appreciated thanks to the red-brown color of its bark, its bright green leaves and its clusters of fragrant flowers. It is a very hardy plant, in fact the specimens brought from the forests of southern Tierra del Fuego and planted in the Faroe Islands grow without problems. Other specimens have been planted in the northern part of the west coast of the United States. This plant has earned the Award of Garden Merit from the Royal Horticultural Society.
Preparation Method –
An infusion is obtained from the bark of Drimys winteri which is used in the treatment of indigestion, colic, dandruff and scurvy. It is also used as a parasiticide.
The bark is harvested in the fall and winter and dried for later use.
The bark is thick and spicy, so much so that it is sometimes used as a substitute for pepper in Argentina and Chile.
Furthermore, the sap of this plant can cause serious inflammation if it comes into contact with the eyes.
Guido Bissanti
Sources
– Acta Plantarum – Flora of the Italian Regions.
– Wikipedia, the free encyclopedia.
– Useful Tropical Plants Database.
– Conti F., Abbate G., Alessandrini A., Blasi C. (edited by), 2005. An annotated checklist of the Italian vascular flora, Palombi Editore.
– Pignatti S., 1982. Flora of Italy, Edagricole, Bologna.
– Treben M., 2000. Health from the Lord's Pharmacy, Advice and experiences with medicinal herbs, Ennsthaler Editore.
Warning: Pharmaceutical applications and alimurgical uses are indicated for informational purposes only, they do not represent in any way a medical prescription; therefore no responsibility is taken for their use for curative, aesthetic or food purposes.
We suggest this purchase