Cypripedium pubescens
The Yellow lady's slipper (Cypripedium pubescens Willd.) Is a herbaceous species belonging to the Orchidaceae family.
Systematics –
From the systematic point of view it belongs to the Eukaryota Domain, Kingdom Plantae, Spermatophyta Superdivision, Magnoliophyta Division, Liliopsida Class, Liliidae Subclass, Orchidales Order, Orchidaceae Family, Cypripedioideae Subfamily and therefore to the Cypripedium Genus and to the C. pubescens Species.
The terms are synonymous:
– Cypripedium flavescens DC. 1803;
– Cypripedium luteum var. pubescens (Willd.) Raf. 1828;
– Cypripedium luteum var. angustifolium Raf. 1828;
– Cypripedium luteum var. biflorum Raf. 1828;
– Cypripedium luteum var. concolor Raf. 1828;
– Cypripedium luteum var. glabrum Raf. 1828;
– Cypripedium luteum var. grandiflorum Raf. 1828;
– Cypripedium luteum var. maculatum Raf. 1828;
– Cypripedium furcatum Raf. 1833;
– Cypripedium undatum Raf. 1833;
– Cypripedium assurgens Raf. 1833;
– Cypripedium aureum Raf. 1833;
– Cypripedium calceolus var. pubescens (Willd.) Correll 1938;
– Cypripedium veganum Cockerell & Barker 1900;
– Cypripedium parviflorum var. pubescens (Willd.) O.W.Knight 1906;
– Cypripedium parviflorum var. planipetalum Fernald 1926;
– Cypripedium planipetalum (Fernald) F.J.A. Morris 1929;
– Cypripedium calceolus var. planipetalum (Fernald) Vict. & J. Rousseau.
Etymology –
The term of the genus Cypripedium comes from the Greek from Κύπρις Cýpris Ciprea or Ciprigna, one of the attributes of Artemis (Venus), and from πἑδῑλον pédilon sandali: slipper of Venus.
The specific epithet pubescens comes from pubes -is adolescent chin fluff: covered with fluff, hairy, pubescent, downy.
Geographic Distribution and Habitat –
Cypripedium pubescens is a plant native to the north of the United States, with a distribution that goes from North America, East Asia and Japan.
Its habitat is that of the mesic deciduous and coniferous forest, clearings, groves, prairies, meadows and swamps at altitudes between 0 and 2900 meters.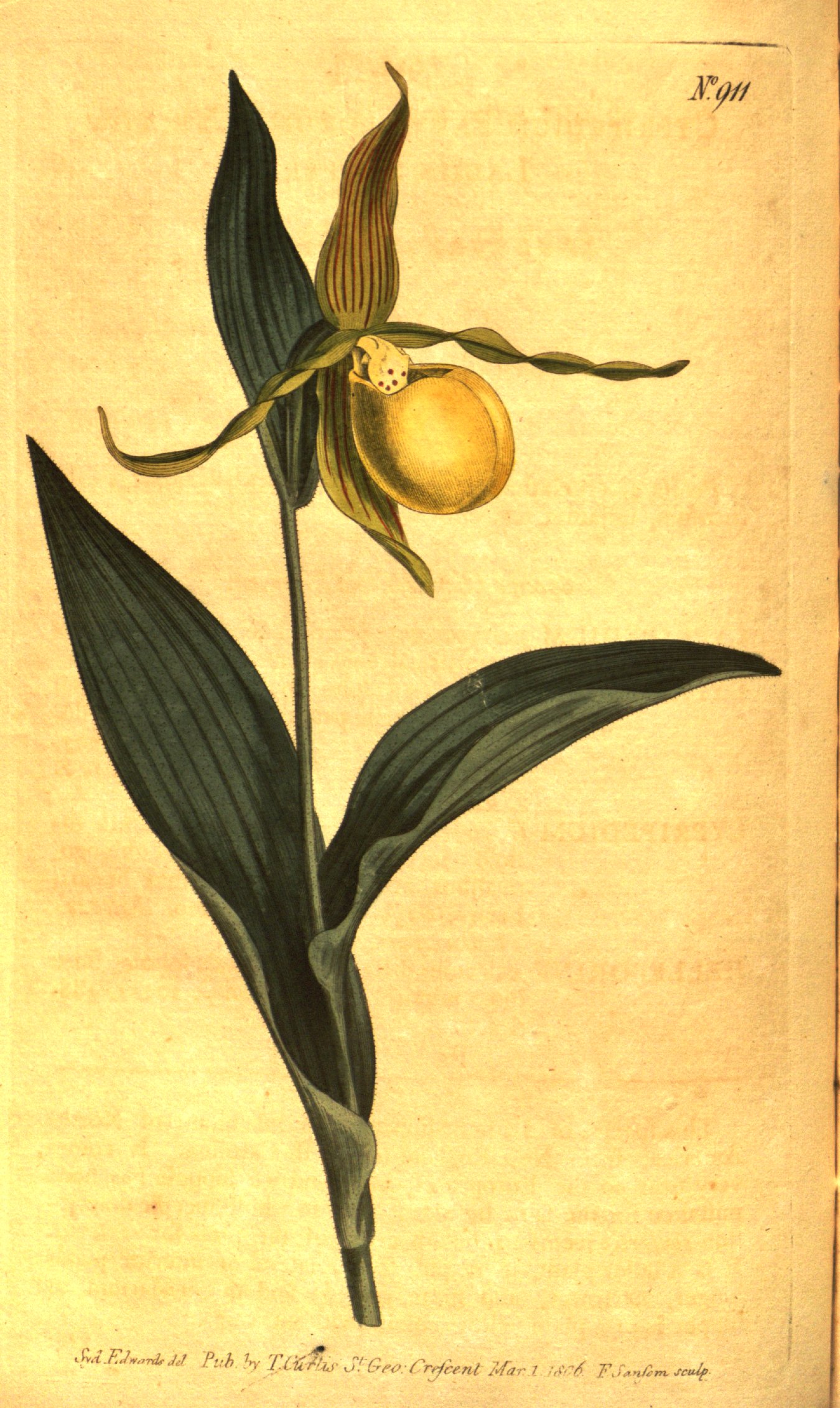 Description –
Cypripedium pubescens is a perennial orchid that grows up to 0.6m by 0.3m.
The root has a typically horizontal rhizome, which expands widely. The plant consists of 3 or 4 oblong leaves, bright green, enveloping the caule, from which 2 large and magnificent flowers branch off.
The flowers have two brownish sepals located at the same height, which descend on hazel-colored petals and end with a distinctive labellum (from which it takes its name); it is a very particular petal – typical of orchids – with a mushroom conformation, a sort of basin that acts as an attraction for the insects used for pollination (the insect, imprisoned in the labellum, collects the pollen favoring its dispersion).
The species is hermaphrodite (it has both male and female organs).
It blooms from April to May.
Cultivation –
The Yellow lady's slipper is a plant that grows well in the shade or in full sun if there is adequate humidity. It prefers woodland gardens and north or northwest exposures to slow down initial growth. It requires humus-rich soil with a lot of moisture in the growing season but also succeeds in calcareous soils.
The plant should not be planted too deep.
It is a very ornamental and long-lived species once established, although it is very difficult to get the plant free.
The flowers have a soft, rose-like aroma.
Although native to North America, Cypripedium pubescens can potentially grow in all areas of the Northern Hemisphere, although its cultivation is not always so simple. In Italy it can be admired, in particular, in the Alps.
It is an orchid which, like the plants of the same family, has roots with a symbiotic relationship with fungi that allow them to obtain sufficient nutrients in the soil and to be able to compete successfully with other plants. They are very sensitive to adding fertilizers or fungicides as they can damage the symbiotic fungus and thus kill the orchid.
The propagation of this orchid can take place by seed, which must be sown on the surface, preferably as soon as it is ripe, in a greenhouse, without allowing the substrate to dry out.
In sowing it is recommended to use part of the soil that grows around established plants to introduce the fungus, which soon establishes the symbiotic relationship, or to sow the seed around a plant of the same species and let the seedlings grow until large enough to be transplanted. In this case, the seedlings must be carefully divided in early spring, being very careful because they are affected by the disturbance. Division is best done towards the end of the growing season, as the food reserves are distributed fairly evenly across the rhizome.
However, it is a hardy plant that tolerates temperatures as low as -30 ° C.
Customs and Traditions –
The Yellow lady's slipper is also called moccasin flower.
This plant, unlike what one might think, is not cultivated only for its particular aesthetic aspect: it is also used in the homeopathic and phytotherapeutic field.
Unfortunately, this plant is becoming very rare in nature due to over-harvesting for medicinal use. Among other things, some reports that the plant is grown for its medicinal uses are largely false and, unless you can be sure that the root comes from a cultivated source, it is preferable not to use this plant medicinally, but use suitable substitutes such as Scutellaria laterifolia and Lavendula angustifolia.
The plant, however, contains tannins, bitter glycosides, non-terpenoid phenanthraquinones and an essential oil (extracted in particular from roots and rhizome) which give the plant antispasmodic, tonic and eupeptic functions, as well as making it useful as a mild sedative. So much so that the sedative action given it seems to be comparable to that of valerian: in this regard, the root and rhizome extract of the Venus slipper is recommended in particular for the treatment of some forms of hysteria and anxiety in infants.
In homeopathy to induce falling asleep.
It also seems that the plant is useful for counteracting gastric irritation and heartburn due to the abuse of pseudo-irritants, such as coffee or tea.
The properties of this plant are mainly due to the roots.
The roots have a sedative and relaxing effect on the nervous system.
The root is a pungent bittersweet herb with an unpleasant odor. It was widely used by North American Indians who used it as a sedative and antispasmodic to relieve menstrual and labor pains and to counteract insomnia and nervous tension.
The root is antispasmodic, diaphoretic, hypnotic, nervine, sedative, tonic and is taken internally in the treatment of anxiety, nervous tension, insomnia, depression and tension headaches.
The active ingredients are not soluble in water and therefore it is best to take the root in the form of a tincture.
Regarding contraindications and toxic effects, please note that:
– the extract obtained from the root, in excessive doses, can induce optical hallucinations, mental excitement and psychedelic reactions; moreover, the glandular hairs of the shaft can create irritation on the skin.
– contact with the fresh plant can cause dermatitis in sensitive people
In general, the Venus Slipper should be avoided for those suffering from allergies and during pregnancy.
Preparation Method –
For the uses described above, the roots are used, which are harvested in autumn and dried for later use.
However, in the interest of conserving this plant, it is best not to use this herb unless you can be sure it was obtained from a cultivated source.
Guido Bissanti
Sources
– Acta Plantarum – Flora of the Italian Regions.
– Wikipedia, the free encyclopedia.
– Useful Tropical Plants Database.
– Conti F., Abbate G., Alessandrini A., Blasi C. (edited by), 2005. An annotated checklist of the Italian vascular flora, Palombi Editore.
– Pignatti S., 1982. Flora of Italy, Edagricole, Bologna.
– Treben M., 2000. Health from the Lord's Pharmacy, Advice and experiences with medicinal herbs, Ennsthaler Editore.
Warning: Pharmaceutical applications and alimurgical uses are indicated for informational purposes only, they do not represent in any way a medical prescription; therefore no responsibility is taken for their use for curative, aesthetic or food purposes.
We suggest this purchase