Centaurea behen
Centaurea alata (Centaurea behen L.) is a herbaceous species belonging to the Asteraceae family.
Systematics –
From the systematic point of view it belongs to the Eukaryota Domain, Kingdom Plantae, Magnoliophyta Division, Magnoliopsida Class, Subclass Asteridae, Asterales Order, Asteraceae Family, Carduoideae Subfamily, Cardueae Tribe and therefore to the Centaurea Genus and to the C. behen Species.
The terms are synonymous:
– Centaurea acuta Vahl ex M. Bieb .;
– Centaurea acuta Vahl;
– Centaurea acuta Vahl ex M. Bieb .;
– Centaurium acutum K. Koch, 1851;
– Centaurea alata Lam .;
– Centaurium alatum (Lam.) K. Koch, 1851;
– Centaurea babylonica M. Bieb .;
– Centaurea brachyptera DC .;
– Centaurea germaniciae Hausskn. ex Boiss .;
– Centaurium acutum K. Koch;
– Centaurium alatum (Lam.) K. Koch;
– Centaurium babylonicum (L.) K. Koch;
– Centaurium behen (L.) K. Koch;
– Behen album Garsault;
– Microlophus alatus (Lam.) Cass.
– Microlophus behen (L.) Takht .;
– Piptoceras behen (L.) Cass .;
– Rhaponticum behen (L.) Kostel .;
– Rhaponticum behen (L.) Ratier.
Etymology –
The term Centaurea is assonant with the Greek κέντρον céntron goad, spur: due to the shape of the bud, or from Centaurus, Greek κένταυρος céntauros centaur, mythological figure half man and half horse; according to some authors, this genre would be dedicated to Chiron who, unlike the other centaurs, had a wise and meek disposition: an expert in science and medicine, he was considered a teacher of Aesculapius, Achilles and other heroes.
The specific epithet behen comes from the Arabic bahman / behmen, a name attributed to several plants that are not well identified, including saffron.
Geographic Distribution and Habitat –
Centaurea behen is one that grows wild and wild in northern Iraq and Armenia and many other areas in western and central Asia, in very similar habitats extending from Lebanon to Kazakhstan.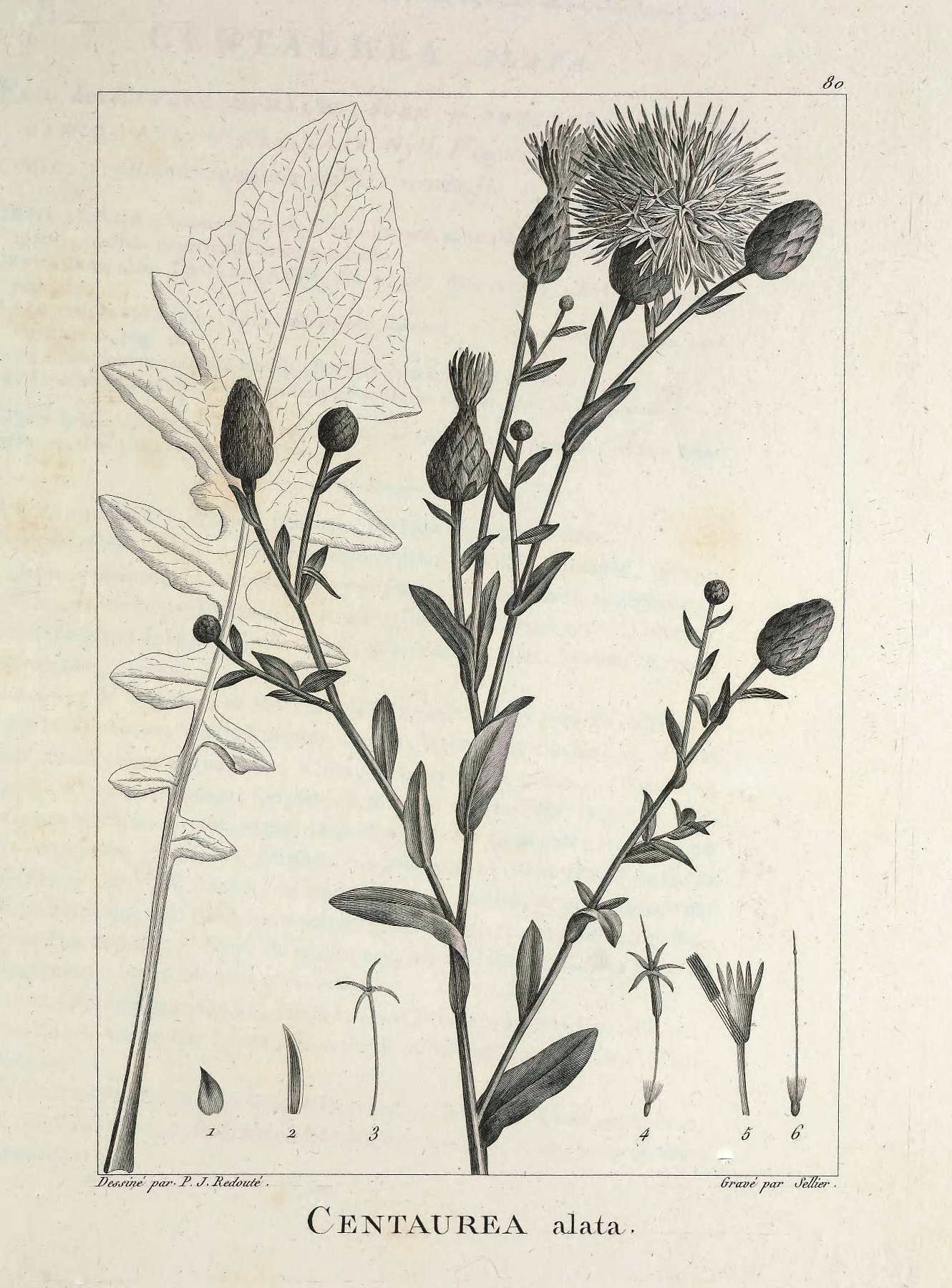 Description –
Centaurea behen is a herbaceous plant, which grows up to just under one meter above the ground.
The leaves, at ground level, are relatively large, comparable to the broad leaves of spinach.
Above these leaves are branching stems bearing much smaller light leaves and, when in bloom, small yellow flowers.
The plant has more thick roots and all the roots have brown skin on the outside and white color on the inside.
Cultivation –
Centaurea behen is a plant that grows wild in full sun but is also grown in northern India for the medicinal use of its roots.
It prefers sunny locations and deep soils in which to develop its roots.
Customs and Traditions –
The roots of this plant are marketed in dry form, with a shriveled appearance, then ground into powder and used for various purposes in traditional herbal medicine.
The roots are called Behman Safed and also known as White Behmen and Safaid Behmen in Indian Ayurvedic medicine.
However, studies have been carried out to determine any cytotoxic and oxidative effects of C. behen essential oil on human blood cell cultures. 3- (4,5-dimethylthiazol-2-yl) -2.5 diphenyltetrazolium bromide (MTT) and lactate dehydrogenase (LDH) release tests were performed to determine cytotoxic effects. Furthermore, total antioxidant capacity (TAC) and total oxidative state (TOS) were examined to determine oxidative potentials. The results indicated that all tested concentrations of C. behen essential oil were cytotoxic and led to a decrease in cell viability in both tests. Furthermore, C. behen led to significant increases in HRT levels and decreases in TAC levels.
Preparation Method –
The roots of the Centaurea behen are used which are marketed dry and then ground into powder to be used for various purposes, in traditional herbal medicine.
Guido Bissanti
Sources
– Acta Plantarum – Flora of the Italian Regions.
– Wikipedia, the free encyclopedia.
– Treben M., 2000. Health from the Lord's Pharmacy, Advice and experiences with medicinal herbs, Ennsthaler Editore
– Pignatti S., 1982. Flora of Italy, Edagricole, Bologna.
– Conti F., Abbate G., Alessandrini A., Blasi C. (edited by), 2005. An annotated checklist of the Italian vascular flora, Palombi Editore.
Warning: Pharmaceutical applications and alimurgical uses are indicated for informational purposes only, they do not represent in any way a medical prescription; therefore no responsibility is taken for their use for curative, aesthetic or food purposes.