Juncus inflexus
The tenacious rush or curved rush (Juncus inflexus L.) is a sheared head species belonging to the Juncaceae family.
Systematics –
From the systematic point of view it belongs to the Eukaryota Domain, Kingdom Plantae, Magnoliophyta Division, Liliopsida Class, Poales Order, Juncaceae Family and therefore to the Juncus Genus and to the J. Inflexus Species.
The terms are synonymous:
– Juncus angelisii Ten .;
– Juncus depauperatus Ten .;
– Juncus glaucus Ehrh .;
– Juncus longicornis Bastard.
Etymology –
The term Juncus comes from the Latin name of the rush, from iúngo to join: for the use made of it to make ties.
The specific epithet inflexus comes from inflection, inflection, bend, bend inward: inflected, curved.
Geographic Distribution and Habitat –
The tenacious rush is a species with a vast Eurasian distribution and present, in Italy, in all regions. It is also found in North Africa.
Its habitat is that of pioneer humid vegetation on the edge of paths, ditches, ponds and drinking troughs, on clayey-clayey compacted and periodically submerged soils, rich in bases and nitrogen compounds, from sea level to the mountain belt.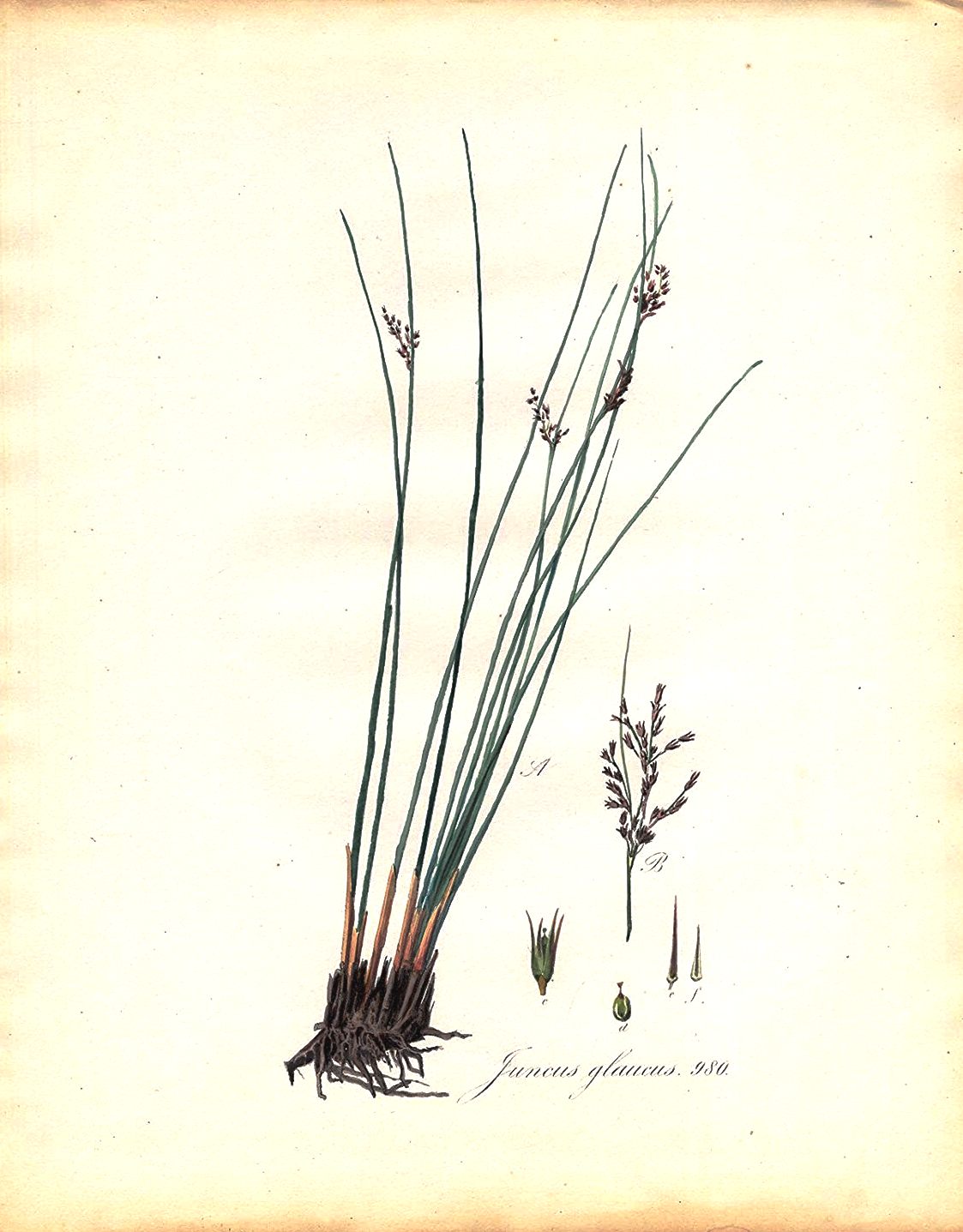 Description –
Juncus inflexus is a bushy plant formed by dense dark gray-green stems.
On the tops of the stems, during the summer, it produces brown-brown inflorescences composed of several branches.
The fruit is a 2.5-3.2 mm loculicidal capsule, ovoid or ellipsoid, trigone, subacute-mucronate, with a 0.2 mm beak, brown or brown-dark, glossy in the upper part. Seeds of 0.5-0.6 mm, ± ovoid or ellipsoid, covered with a fine reticule, reddish.
Cultivation –
The tenacious rush is a plant that blooms in the period of May – July.
It can be used for phytodepuration plants or as a plant at the edges of small reservoirs to keep the waters clearer.
The planting depth between the rhizome and the water surface ranges from 0 to -5 cm.
The height of the plant above the water level must be about 60 cm.
The plant prefers full sun exposure and is very resistant to low temperatures.
Customs and Traditions –
Juncus inflexus is a sheared bushy marsh plant which is however toxic for livestock.
This plant is suitable for swampy areas with a few cm of water, or for moist soil.
Juncus inflexus is a plant also used for phytodepuration alone or together with other plants with identical needs.
Preparation Method –
The Juncus inflexus as well as plants for phytodepuration has no particular uses neither food nor therapeutic.
Guido Bissanti
Sources
– Acta Plantarum – Flora of the Italian Regions.
– Wikipedia, the free encyclopedia.
– Treben M., 2000. Health from the Lord's Pharmacy, Advice and experiences with medicinal herbs, Ennsthaler Editore
– Pignatti S., 1982. Flora of Italy, Edagricole, Bologna.
– Conti F., Abbate G., Alessandrini A., Blasi C. (edited by), 2005. An annotated checklist of the Italian vascular flora, Palombi Editore.
Warning: Pharmaceutical applications and alimurgical uses are indicated for informational purposes only, they do not represent in any way a medical prescription; therefore no responsibility is taken for their use for curative, aesthetic or food purposes.