Picea glauca
The White Spruce (Picea glauca (Moench) Voss, 1907) is an arboreal species belonging to the Pinaceae family.
Systematics –
From the systematic point of view it belongs to the Eukaryota Domain, Reign Plantae, Sub-Trinchebionta Subdivision, Spermatophyta Superdivision, Pinophyta Division, Pinopsida Class, Pinales Order, Pinaceae Family and therefore to the Genus Picea and to the P. glauca Species.
There are numerous synonyms for this species which are:
– Abies alba var. J.Nelson caerulea;
– Abies alba var. nana Jacques;
– Abies alba var. virescens (R.Hinterh. & J.Hinterh.) Nyman;
– Abies artica A.Murray bis;
– Abies canadensis Mill .;
– Abies canadensis var. aurea J.Nelson;
– Abies coerulea Lodd. ex J.Forbes;
– Abies laxa (Münchh.) K.Koch;
– Abies rubra var. violacea Loudon;
– Abies virescens R.Hinterh. & J.Hinterh .;
– Picea acutissima Beissn .;
– Picea alba (Münchh.) Link;
– Picea alba var. foetida Penh .;
– Picea alba var. pendula Carrière;
– Picea canadensis var. Alberta Rehder;
– Picea canadensis var. glauca (Moench) Sudw .;
– Picea canadensis f. parva Vict .;
– Pinus canadensis var. pendula (Carrière) C.K.Schneid .;
– Picea coerulea (Lodd. Ex J.Forbes) Link;
– Picea glauca f. aurea (J.Nelson) Rehder;
– Picea glauca f. buxoides J.R.Schramm;
– Picea glauca f. caerulea (J.Nelson) Rehder;
– Picea glauca f. conical Rehder;
– Picea glauca var. glauca;
– Picea glauca f. glauca;
– Picea glauca f. nana (Jacques) Rehder;
– Picea glauca f. seemed Fernald & Weath .;
– Picea glauca var. pendula (Carrière) Hornibr .;
– Picea laxa Sarg .;
– Pinus abies var. dawn Münchh .;
– Pinus abies var. laxa Münchh .;
– Pinus alba (Münchh.) Aiton;
– Pinus alba var. arctica (A.Murray bis) Parl .;
– Pinus canadensis var. alba (Münchh.) Castigl .;
– Pinus glauca Moench;
– Pinus laxa (Münchh.) Ehrh .;
– Pinus tetragona Moench.
Etymology –
The term Picea comes from picea, the Latin name of the wild pine in Virgil and Pliny. The specific glauca epithet comes from the Greek γλαυκός glaucous glaucós, greenish blue or gray blue: due to the color of the leaves.
Geographical Distribution and Habitat –
The White Spruce is the most important tree species in the boreal forests of the North American continent, from Alaska to the Atlantic coast, including the island of Terranova, with southern extension as far as Montana, Minnesota and Maine, where, in most of the its distribution area, it grows mainly in formations with occasional presence of Betula papyrifera and other conifers.
Its habitat is represented by areas with soils usually of fluvial or glacial origin, slightly acidic or neutral and frequently podzolic, where it grows from the sea level, especially in the northernmost areas, up to 1,900 m, in the southernmost areas .
The growing area is characterized by cold winters and on average warm summers with annual rainfall ranging from 200 to 1250 mm, where, depending on the climatic conditions, this species has a very variable vegetative season.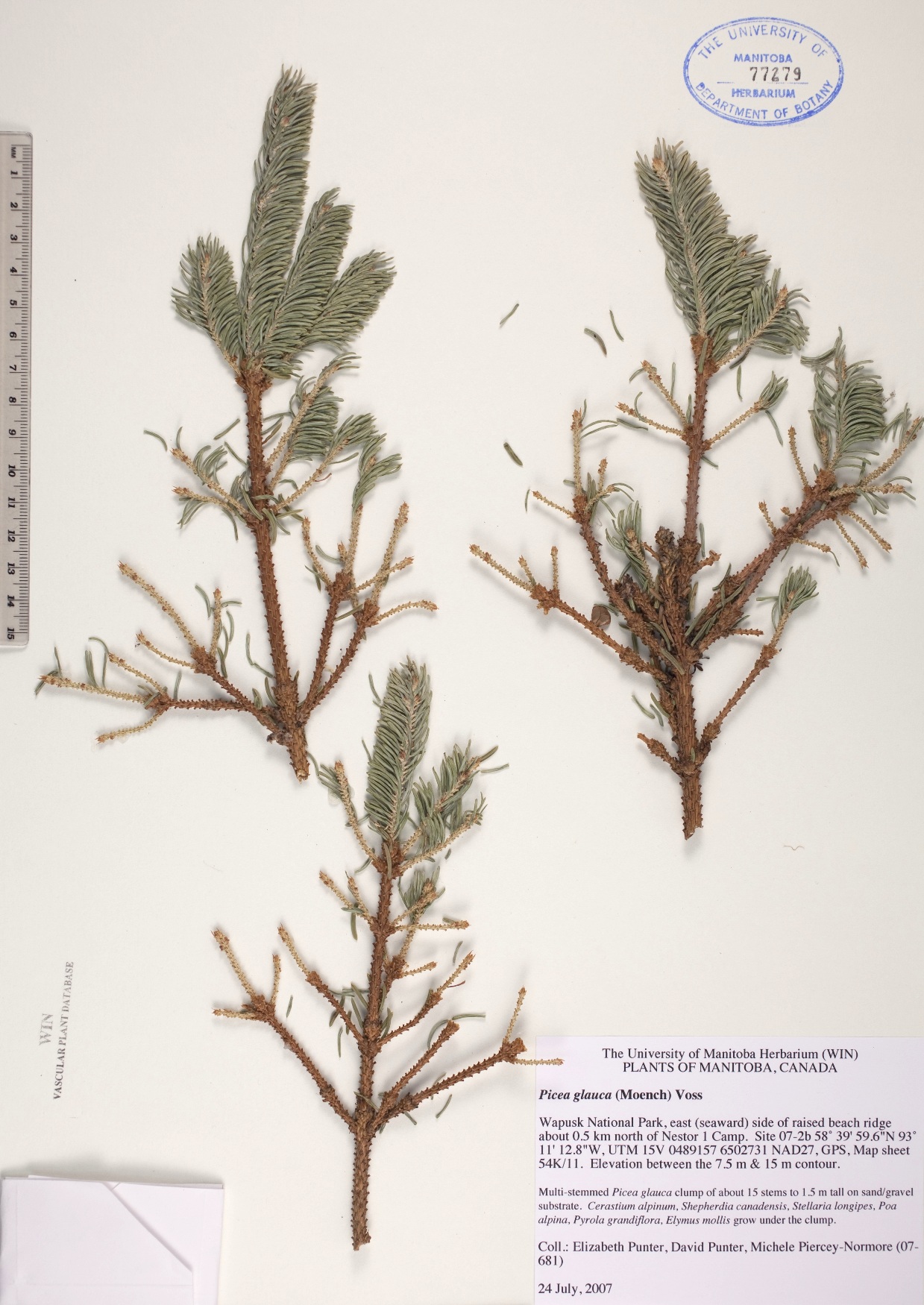 Description –
Picea glauca is an arboreal species, which grows in height from 30 to 50 meters.
The trunk can reach a diameter of one meter and has a thin bark, characterized by flaking flakes of about 10 cm in diameter.
The top of this tree has a conical shape in young specimens while it tends to become cylindrical with the passing of the years.
The leaves are needles of variable lengths from 12 to 20 mm, which have a rhombic section, with a blue-greenish color (hence the specific epithet) on the upper page where there are numerous stomatal lines, and blue-whitish in the lower one where two large bands of stomata are allocated.
The pine cones grow in a pendulous direction and have the shape of tapered cylinders, 3 – 7 cm long and 1.5 cm wide; at the opening of these the size is 2.5 cm. the pine cones are characterized by thin and flexible flakes of about 15 mm, with a rounded margin. They have a green or reddish color at the beginning to become with a light brown maturation, which occurs after about 4-6 months from pollination.
Inside we find black seeds, 2-3 mm long with a slender wing of lighter brown color of 5 – 8 mm in length.
Cultivation –
The cultivation technique of this tree species is very similar to other similar species and in any case it is advisable to place the plants in a sunny place; in areas with a particularly hot climate it is good to repair the plant in partial shade or in full shade.
Picea glauca is a plant that does not fear the cold, preferring temperate to very hot climates. The plants of this variety are planted indifferently in spring or autumn.
As far as irrigation is concerned, consider that they are trees that do not like drought, even if they endure short periods without rain, so in the case of long periods in which rainfall is absent, it is good to water the plant abundantly, at least once every week, at least in the early juvenile stages.
Before planting, it is advisable to plant organic fertilizer at the base of the plant; if placed in excessively alkaline soils it is advisable to supply sequestrene or iron to the plants, every 3-4 years, to avoid discoloration of the needles.
In fact it is a plant that prefers rich, slightly acidic, well-drained soil with a wet tendency; he also does not like excessively sandy soils.
The multiplication of this plant can be carried out by seed or by cutting, in spring. It is also advisable to place the seeds in a soil rich in nutrients and in special containers, which should be kept away until the new shoots have gained strength.
Uses and Traditions –
The White Spruce within its range, is of considerable economic, as well as ecological, importance for its wood. It is in fact a fairly tenacious and workable material, it is used in construction and in the paper industry.
With this wood we build, especially in Alaska, the characteristic huts often made with trunks of white spruce, with the bark left on the side facing the outside.
The wood of this plant is also used in the carpentry, carpentry, to make wooden finishes and interior flooring.
Minor uses of this wood are those for the realization of musical instruments and paddles for canoes.
Another important use is the ornamental one that must be done, however, in the typical areas of its habitat.
From an ecological point of view, Picea glauca, due to its extensive distribution area and its conservation status, is classified as a minimum risk species on the IUCN Red List.
Preparation Mode –
The White Spruce, besides the uses of the wood and the ornamental purposes does not cover particular uses in the alimentary or pharmaceutical field.
Guido Bissanti
Sources
– Acta Plantarum – Flora of the Italian Regions.
– Wikipedia, the free encyclopedia.
– Treben M., 2000. Health from the Pharmacy of the Lord, Advice and experiences with medicinal herbs, Ennsthaler Editore
– Pignatti S., 1982. Flora of Italy, Edagricole, Bologna.
– Conti F., Abbate G., Alessandrini A., Blasi C. (edited by), 2005. An annotated checklist of the Italian vascular flora, Palombi Editore.
Attention: Pharmaceutical applications and food uses are indicated for informational purposes only, do not in any way represent a medical prescription; therefore no responsibility is assumed for their use for curative, aesthetic or food purposes.
We suggest this purchase