Terminalia ferdinandiana
The Kakadu, also known as gubinge or murunga (Terminalia ferdinandiana Exell) is an arboreal species of the Combretaceae family.
Systematics –
From the systematic point of view it belongs to the Eukaryota Domain, Kingdom Plantae, Sub-Trinchebionta Sub-Division, Magnoliophyta Division, Magnoliopsida Class, Subclass Rosidae, Order Myrtales, Family Combretaceae and therefore to the genus Terminalia and to the species T. ferdinandiana.
Etymology –
The term Terminalia comes from terminalis terminal: reference to the leaves grouped at the ends of the branches.
The specific Ferdinand epithet was attributed in honor of the German botanist Ferdinand Jacob Heinrich von Müller (1825-1896) who in 1847 emigrated to Australia, to Adelaide, traveled through the Australian colony from 1848 to 1852 discovering and describing a large number of plants unknown to western science; he was the author of many books on botany, coauthor of Flora Australiensis with G. Bentham, director of the Royal Botanic Gardens of Melbourne.
Geographical Distribution and Habitat –
Kakadu is a plant that grows along the coast in the Kimberley region in western Australia to the west of Broome and is widespread in all tropical forests from north-western Australia to the territory of Arnhem in the north-east of the Northern Territory.
Its habitat is quite varied as it can grow indiscriminately in sand plains, flood plains, stream beds and at the edges of mangrove areas.
However, it prefers sandy or alluvial soils on sandstone soils.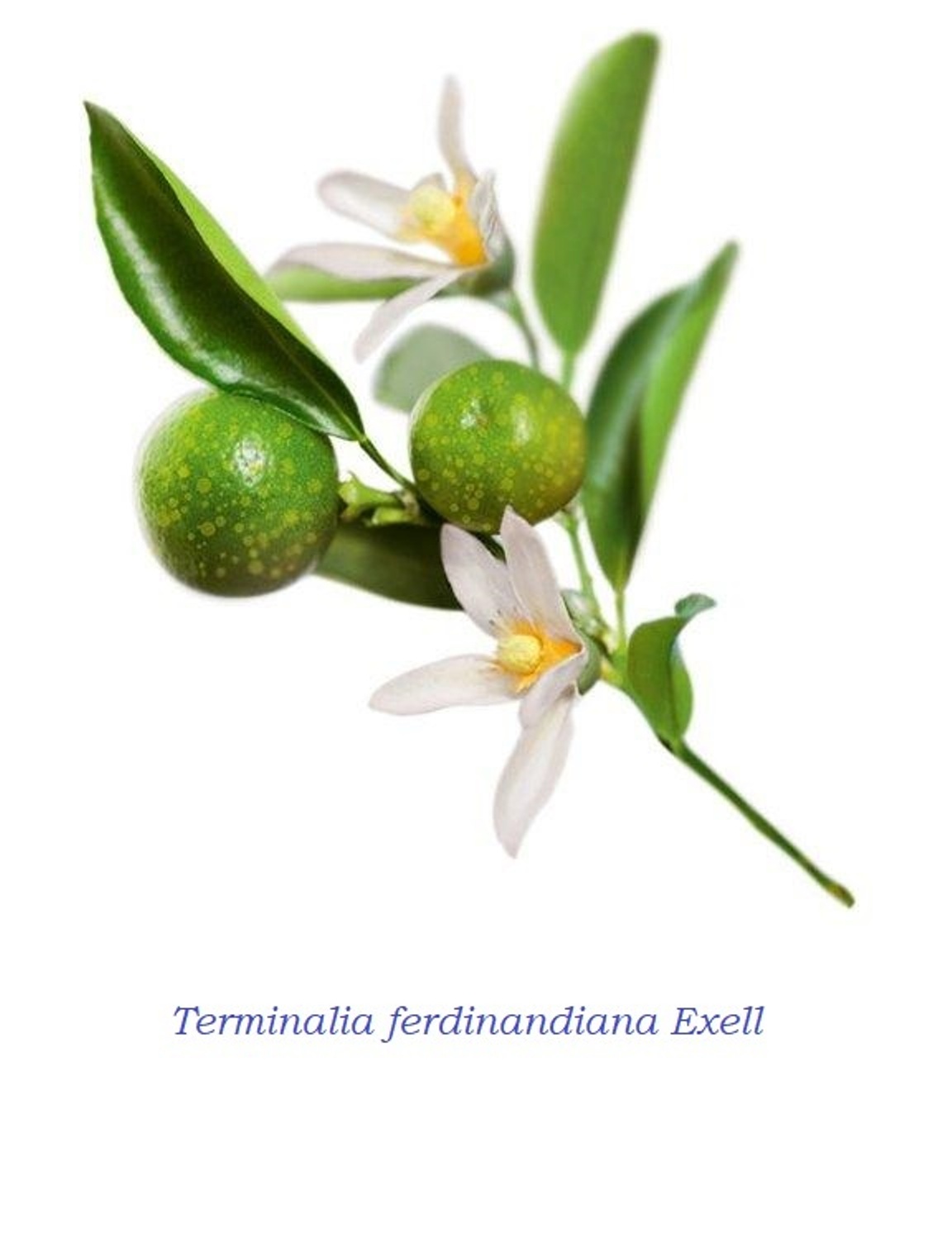 Description –
Terminalia ferdinandiana is a medium-small tree that can grow up to 14 m in height.
It has a bark of cream gray color, with light and deciduous green leaves, with a largely elliptical, largely ovated shape and a rounded, occasionally obovate vertex, 11 to 33 centimeters long and 8.5 to 23 centimeters wide.
The flowers are small, cream-white in color, perfumed and brought to the axils of the leaves towards the ends of the branches in inflorescences long from 16 to 19 centimeters.
The anthesis in the southern hemisphere is in spring – summer while in the northern hemisphere from September to December.
The fruits are yellow-green, about 2 cm long and 1 cm wide that contain a large seed. These mature from March onwards.
Cultivation –
For the cultivation of Kakadu we must consider that it prefers sandy or alluvial soils on sandstone soils and that it is a plant that needs climatic conditions similar to the areas of origin and with water availability.
Uses and Traditions –
The Terminalia ferdinandiana, also known with the common names of: Kakadu, Gubinge, plum billygoat, green plum, salted plum, murunga or mador, is a plant that has a high concentration of vitamin C in its fruits: there are concentrations of 2300 –3150 mg / 100 g of wet weight, up to peaks of 5300 mg / 100 g, which compared to 50 mg / 100 g for oranges, is among the most concentrated fruits.
The fruit known as Kakadu plum or billygoat plum is used as a shrub in traditional medicine by Australian aborigines. The rounded green light fruits, which have a very sour taste, are usually eaten raw, although they can also be turned into jam.
In Australia, in the last few years, different products are sold based on this fruit and the juice of this fruit is gaining more and more favor with consumers every day.
Due to its particular vitamin C content, consumption of the Kakadu fruit can play an important health role: it can play a fundamental role in strengthening the immune system. It becomes important to have strong and healthy bones, teeth and gums. It can help keep the skin elastic thanks to its ability to stimulate collagen production and improves intestinal iron absorption by improving our body's ability to absorb iron from the foods we eat here. The vitamin C contained in the Kakadu is a good support in the fight against all allergies thanks to its ability to prevent the release of histamine.
It is also an excellent adjuvant against heart disease.
The fruit is also rich in phenolic compounds, phytochemicals that have shown very strong antioxidant properties.
A study published in the journal Nutrition and Cancer found that polyphenols extracted from Kakadu had significant inhibitory activity against cancer cells.
These anti-tumor effects have largely been attributed to the ability to induce apoptosis (self-destruction) in cancer cells.
Furthermore, the latest laboratory studies show that the fruit of the Kakadu also has highly respectable anti-bacterial properties. In one study a particular antibacterial activity against Gram-positive bacteria was shown, inhibiting the growth of all the gram-positive microbes tested (Bacillus cereus, Staphylococcus aureus, Staphylococcus epidermidis and Streptococcus pyogenes).
Preparation Mode –
The fruits of Kakadu are usually eaten raw, like normal fruit, although they can be made into jam or fruit juices.
Guido Bissanti
Sources
– Acta Plantarum – Flora of the Italian Regions.
– Wikipedia, the free encyclopedia.
– Treben M., 2000. Health from the Pharmacy of the Lord, Advice and experiences with medicinal herbs, Ennsthaler Editore
– Pignatti S., 1982. Flora of Italy, Edagricole, Bologna.
– Conti F., Abbate G., Alessandrini A., Blasi C. (edited by), 2005. An annotated checklist of the Italian vascular flora, Palombi Editore.
Attention: Pharmaceutical applications and food uses are indicated for informational purposes only, do not in any way represent a medical prescription; therefore no responsibility is assumed for their use for curative, aesthetic or food purposes.