Arrhenatherum elatius
The Tall Oat-grass or tall grass (Arrhenatherum elatius (L.) P.Beauv. Ex J.Presl & C.Presl, 1819) is a herbaceous species of the Poaceae family.
Systematics –
From the systematic point of view it belongs to the Eukaryota Domain, United Plantae, Magnoliophyta Division, Liliopsida Class, Poales Order, Poaceceae Family and therefore to the Genus Arrhenatherum and to the A. elatius Species.
The term Avena elatior L is synonymous.
Etymology –
The term Arrhenatherum derives from the Greek ἄρρην árren male and from ἀθήρ athér remain, for the long remains of the spikelet male flower. The specific epithet elatius is the comparative of elátus alto: higher still, compared to the same species "elata".
Geographical Distribution and Habitat –
The Tall Oat-grass is a Eurasian plant in the broad sense, which also occurs in North Africa. Its typical habitat is that of stable and mown meadows (synanthropism), in grassy places, roadsides, hedges, bushes, from 0 to 1800 m (rarely up to 2500 m) above sea level.It is a common species in the temperate regions of Europe where it colonizes in particular meadows, edges of paths. It is quite common in Italy, where it builds the arrenatereti, natural associations typical of the Alpine valley floors and the Apennine slopes.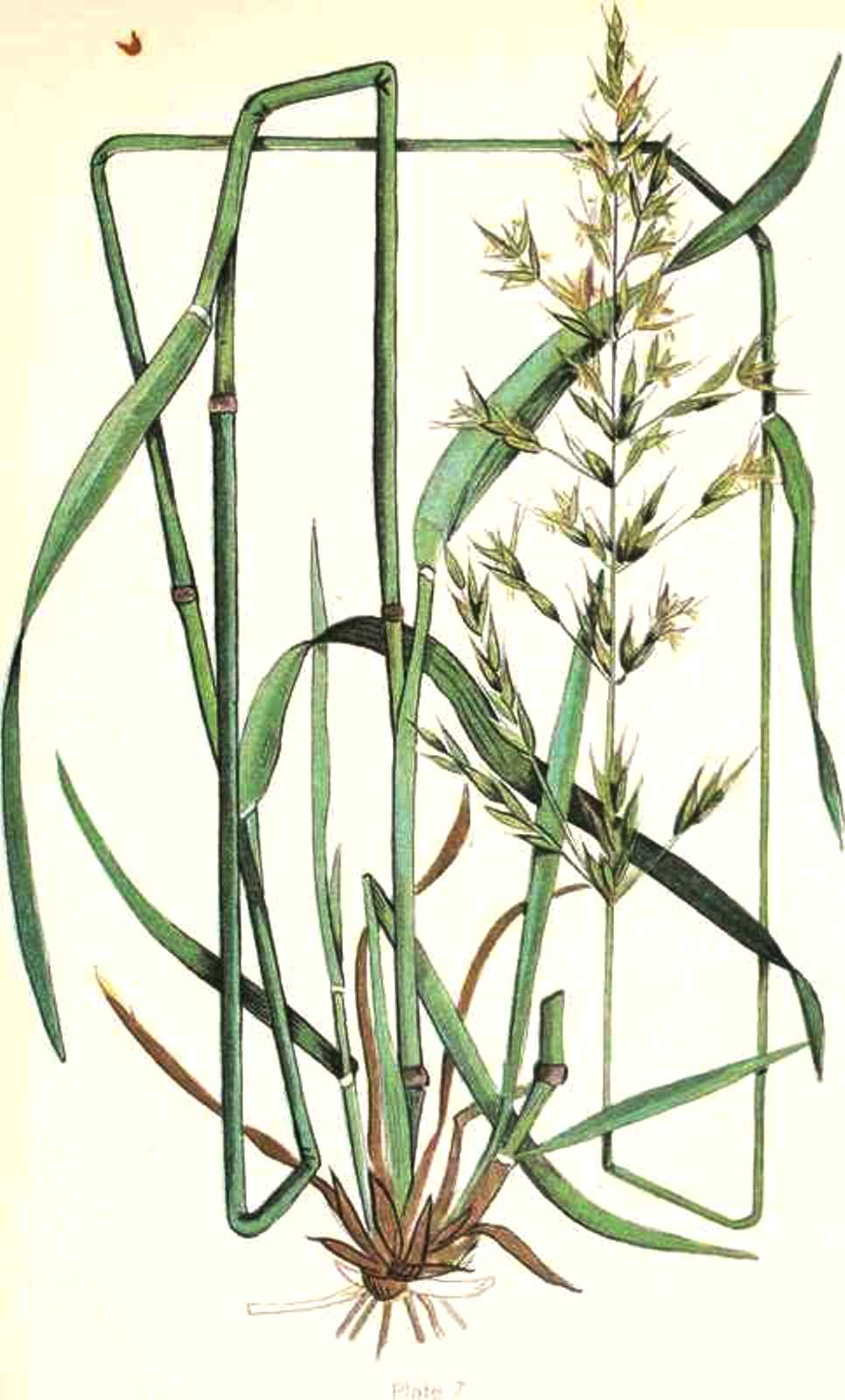 Description –
The Arrhenatherum elatius is a perennial cespitose herbaceous species, avenoid, which reaches a height of 50-120 (150) cm, provided with a branchy rhizome, sometimes briefly stoloniferous, with orange-yellow roots. There are wilted basal leaves.
The culms are ascending and cylindrical, glabrous and robust with 3-5 nodes. The leaves are flat, rough, with lamina of 5 (8) mm and short and truncated ligule (1.5 mm), beveled at the apex, membranous.
The inflorescence is formed by a large and rich elongated and supple pyramidal panicle of 10-25 (30) cm, consisting of floral spikelets arranged on long rough peduncles, patently-reflected at the time of anthesis.
The spikelets (8-10 mm) are biflore, greenish-yellow and shiny, often mottled with violet, glabrous or surrounded by a tuft of hair at the base. The inferior flower is sterile (masculine) with a long rest (15-20 mm) twisted and knee in the back, inserted in the lower 1/4 on the back of the lemma. The upper flower is hermaphroditic, generally with a mutic lemma or with two very short teeth (2-3 mm); palea shorter than it.
The glumes are unequal, scary-hyaline, acute, persistent; with the lower of 5 (6) mm and the upper of 8-9 (10) mm.
The anthesis is in the period between May and July.
The fruit is a very small aristata caryopsis.
Cultivation –
Tall Oat-grass are a typical species of temperate climates that are not too dry. It has a particular sensitivity to late colds and acidity, so it does not adapt to the high mountains and due to its low resistance to drought it is preferable to use it in the Center North.
It is a very fast plant in settling and very suitable for mowing, but the erect habit, the modest persistence (3-4 years) and also the poor palatability due to the bitter taste, do not make it indicated for grazing. In the alternated meadows its productivity is rather high, very aggressive, it lends itself to intercropping with alfalfa, which however is not widely practiced.
In Europe, 4 varieties are available; two, including the Italian "Gala", are registered in the National Register.
Uses and Traditions –
The Arrhenatherum elatius is a very leafy, fast-growing plant, with deep roots and resistant to drought, so it can have considerable value for making hay during dry weather. But it does not live long and cannot withstand intense grazing.
A variegated form of Arrhenatherum elatius (var. Variegatum) with green leaves streaked with white, is sometimes cultivated as a decorative garden plant.
The decoction of bulbils is used in folk medicine against colds.
However, it is a plant rarely mentioned in folk medicine.
Preparation Mode –
In addition to uses for the production of hay and the use of bulbils in folk medicine against colds, the Tall Oat-grass has no food uses.
Guido Bissanti
Sources
– Acta Plantarum – Flora of Italian Regions – Wikipedia, the free encyclopedia – Treben M., 2000. Health from the Pharmacy of the Lord, Advice and experiences with medicinal herbs, Ennsthaler Publisher – Pignatti S., 1982. Flora d 'Italy, Edagricole, Bologna. – Conti F., Abbate G., Alessandrini A., Blasi C. (edited by), 2005. An annotated checklist of the Italian vascular flora, Palombi Editore.
Attention: Pharmaceutical applications and food uses are indicated for informational purposes only, do not in any way represent a medical prescription; therefore no responsibility is assumed for their use for curative, aesthetic or food purposes.